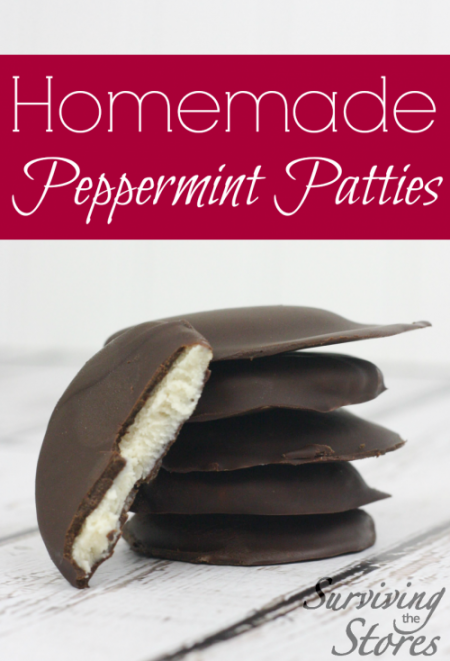 Who doesn't love Peppermint Patties!?
Ok, my 7 year old doesn't (she dislikes anything minty), but besides her.
Our four year old doesn't have the same aversion to mint-flavored desserts as his older sister, so I wanted to show him just how amazing a Peppermint Patty can be… except he's allergic to dairy. And eggs. And the traditional store-bought Peppermint Patties have both (along with a lot of other ingredients that I'm not thrilled about anyway.)
So, off to Google I went to find something that I could make for him.
After sifting through several different recipes, I found this one that seemed easy enough! But I didn't have cashews, and if I did… who SOAKS their cashews? (Please don't get mad at me if you soak your cashews.) 😉
I worked with what I had and came up with what I believe is an AWESOME adaptation of the recipe above! In fact, I can't imagine another version tasting better than this one!
Instead of the cashews, I used blanched almond flour that I found at my local Costco, and instead of Almond Milk, I used Silk's new Cashewmilk!
Yes, Cashewmilk that you don't have to make yourself is now available! And it's GOOD! If you're a cashew fan then you have to try it. It comes in both an unsweetened version, and a sweetened version. But even the sweetened version of Silk's Cashewmilk has almost HALF the sugar that regular cow's milk has!
To read more about Silk's new Cashewmilk AND be entered to win a $500 Spa Gift Card, just click here!
And, not that I did this or anything, but just in case you forget to melt your coconut oil BEFORE putting it into the blender with the rest of the ingredients… a blow dryer works really well to melt it. 😉
Homemade Peppermint Patties
Ingredients:
1/2 Cup Blanched Almond Flour
1/2 Cup Melted Coconut Oil
4 Tablespoons Raw Honey
2 Tablespoons Silk Cashewmilk
5-6 DROPS of Peppermint Essential Oil
3/4 Cup Of Dark Chocolate Chips OR Dairy-Free Chocolate Chips
1/2 Tablespoon Coconut Oil
Directions:
1. Place almond flour, MELTED coconut oil, honey, Silk Cashewmilk, and the Peppermint Essential Oil in a blender. I used my vitamix, but I think any blender or food processor would work.
2. Blend on high for 2-3 minutes until creamy.
3. Line a cookie sheet with parchment paper and then put cupcake liners on top of the parchment paper. Then pour a little bit of the almond flour mixture into each of the cupcake liners.
4. Put the cookie sheet in the freezer and freeze for 30 – 45 minutes.
5. Once the patties are frozen, put the chocolate chips and 1/2 Tbsp. of coconut oil in a small saucepan and melt it over LOW heat. Once it's melted, turn the heat off and let it sit until it's not *quite* so hot.
6. Take the patties out of the freezer and carefully remove the cupcake wrapper.
7. Place one patty in the chocolate/coconut oil mixture, and use a spoon to make sure the chocolate covers all of the white part.
8. Use a fork to carefully take the patty out of the chocolate mixture and place back on the parchment paper that's on the cookie sheet.
9. Repeat with remaining patties.
10. Put the cookie sheet (with all of the chocolate patties on it) BACK into the freezer for another 5-10 minutes.
Pour yourself a big glass of Cashewmilk and enjoy! These really are heavenly!
Be sure to let Silk know what you think about their new Cashewmilk on the Silk Facebook page, and find more awesome recipe ideas on the Silk Pinterest Board!
Oh! And for those of you who need a visual for the cupcake liners, here's what mine looked like before I put them in the freezer…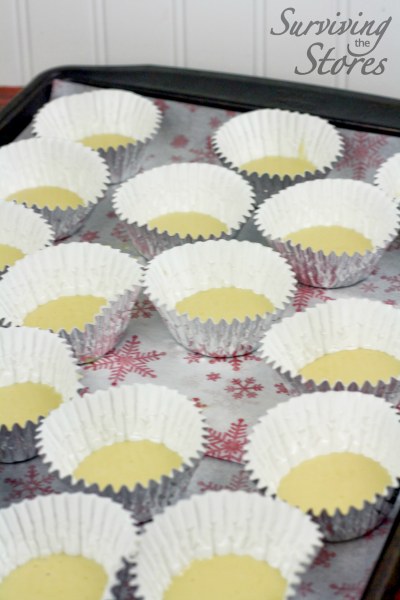 This conversation is sponsored by Silk. The opinions and text are all mine.