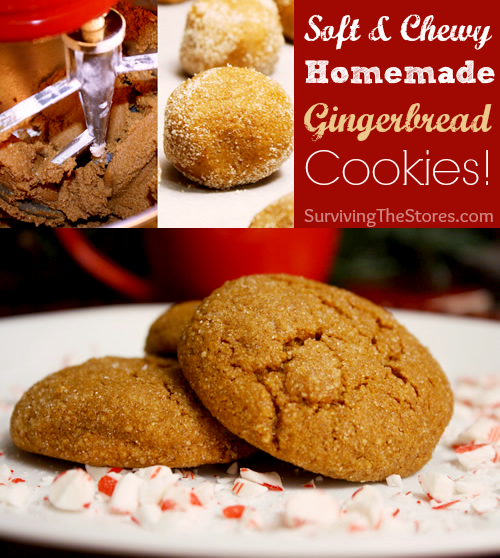 This is one of my favorite recipes during the holidays! These cookie are so soft, which is my preference over harder gingerbread cookies.
Homemade Gingerbread Cookies!
One of the things that I love about this recipe is that it's not too sweet at all. In fact, it's almost like a gingerbread sweet bread, and then rolling it in sugar just adds the little bit of extra sweetness that you need.
If you'd like it sweeter, you can also just add a little extra sugar to the recipe!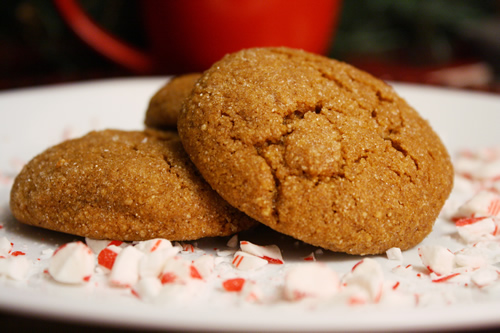 Homemade Gingerbread Cookies Recipe!
Author:
Rachel @ Surviving The Stores
Ingredients
¾ Cup of Salted Butter
¾ Cup (packed) Brown Sugar or Sucanat
½ Cup Molasses
1 Egg
1½ teaspoon Vanilla Extract
2 cups of Whole Wheat Flour
1 cup of Whole Grain White Flour (Feel free to use 3 cups of regular flour, but I feel better about eating 10 cookies if it has whole wheat in them, lol!) 😉
2½ teaspoons Ground Ginger
1 teaspoon Ground Cinnamon
¼ teaspoon Ground Nutmeg
1 teaspoon Baking Soda
⅛ teaspoon of salt (if you used salted butter), or ¼ teaspoon salt if you used unsalted butter
Around ¼ of a cup of Organic Cane Sugar (or just regular sugar)
Instructions
Preheat the oven to 350 degrees and line a cookie sheet with parchment paper.
Cream the butter and brown sugar in a large mixer.
Once the butter and sugar are mixed together well, then add all of the other "wet" ingredients including the molasses, egg, and vanilla.
Mix the flour, ginger, cinnamon, nutmeg, baking soda, and salt together in a separate bowl and then add SLOWLY to the wet ingredients.
Mix everything together well.
Roll the dough into little balls about 1½ inches thick. Roll each dough ball in the granulated sugar and place on the cookie sheet that was lined with parchment paper.
Bake for around 10 minutes, take the cookies out of the oven, and then let the cookies sit on the cookie sheet for another 5-10 minutes or so to firm up some more.
Cool the cookies on a wire rack and enjoy!!