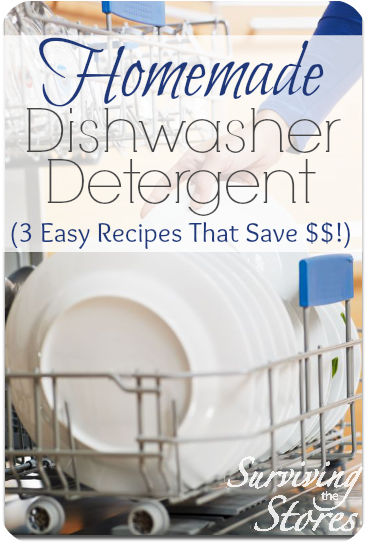 Almost a year ago a coupon came out in the paper for $2.50/1 Electrosol Tabs. When this coupon first came out I STOCKED up!! We didn't buy dishwashing detergent for a very LONG time.
But eventually we ran out and I just couldn't bring myself to pay even $2 for dishwashing detergent. I just couldn't. Something about it just seemed wrong! It's like actually paying money for toothpaste… I just CAN'T do it!
So I decided to take a shot at making my own homemade dishwasher detergent. It's super easy to make it yourself and everyone likely already has all of these ingredients already!
I've been using these recipes for the past few years and they have worked really well for us.
Just be sure NOT to put too much of the powder in.
Option #1:

2 cups borax
2 cups Arm & Hammer washing soda
1 cup Citric Acid (you can find it in the canning section or buy it online here)
1 cup salt (any kind of salt will work)

Mix all of the above together and add 1-2 Tablespoons per load.

The Citric Acid in this recipe makes all the difference in the world for keeping that white film off of your dishes!
Option #2:

1 small box of baking soda
1 16oz box of salt
5 pkgs of Lemonade NO SUGAR drink mix

Mix all of the above well and use 1 Tbsp. per load. (Thanks Gale!)
Option #3:

A box of 20 Mule Team Borax
A box of Arm & Hammer Washing Soda
White Distilled Vinegar

Put 1 Tbsp. of Borax and 1 Tbsp. of Washing Soda in the detergent holder. Then fill up the rinse aid section with white vinegar.
And that's it!! You might need more or less of the ingredients depending on your dishwasher, so just try it out with these measurements and adjust it from there.
What about you guys? Do you make your own dishwasher detergent? What's your recipe?