Fall is in the air! Well, not here in the south. It's still kind of hot in the daytime, but our leaves ARE falling, which means it's time for pumpkin spice and wreaths and all the other things! Around here we usher in the autumn through sheer force of will! And my favorite way to do that is with my favorite fall diffuser scents!
Here's the thing. Years ago, I would buy a pumpkin spice candle from an overpriced chain store (you know the type) and proudly light it to fill my home with that spicy, cozy, fall fragrance. But I didn't realize that along with that delicious, autumnal aroma, I was also pumping known carcinogens like formaldehyde and benzene into the air of my home. And that "fragrance" that I liked so much? Well, the overwhelming majority (95%!) of the chemicals in fragrances are made from petrochemicals that are known to be a huge factor in cancer, birth defects, reproductive harm, allergies, and more. Things like phthalates, benzene derivatives, aldehydes, and other known toxins can be used to create a fragrance, and all the company has to put on the label is the word "FRAGRANCE" because they argue that to list the actual chemicals out would be giving away their trade secrets.
The "fragrances" that are in just about everything from air fresheners to soaps to laundry and household products are potentially extremely hazardous to our health. Even things labeled as "fragrance-free" can have fragrance added just to cover up bad chemical smells to make the product smell "neutral".
Imagine my shock when I learned the things I was using to make my home smell warm and welcoming, were actually terrible for my family and guests. We've since eliminated anything with "fragrance" from our home, and I use essential oils in diffusers instead!
When you purchase essential oils though, you have to keep in mind that the FDA does *not* distinguish between synthetic ingredients and ingredients that are 100% from plants. A company can say that a synthetic blend of chemicals made to smell like an essential oil is 100% pure. Blech!
After years of research, we chose to use only Young Living Essential Oils in our house. The quality and Seed To Seal guarantee just can't be beat! We've found these plant-derived essential oils to be uplifting and beneficial to our overall wellness!
Changing Leaves
6 drops Northern Lights Black Spruce
2 drops Wintergreen
2 drops Eucalyptus Globulus
Fall Romance
4 drops Cedarwood
3 drops Patchouli
3 drops Geranium (or Jasmine)
Spiced Cider
6 drops Bergamot
2 drops Thieves
2 drops Ginger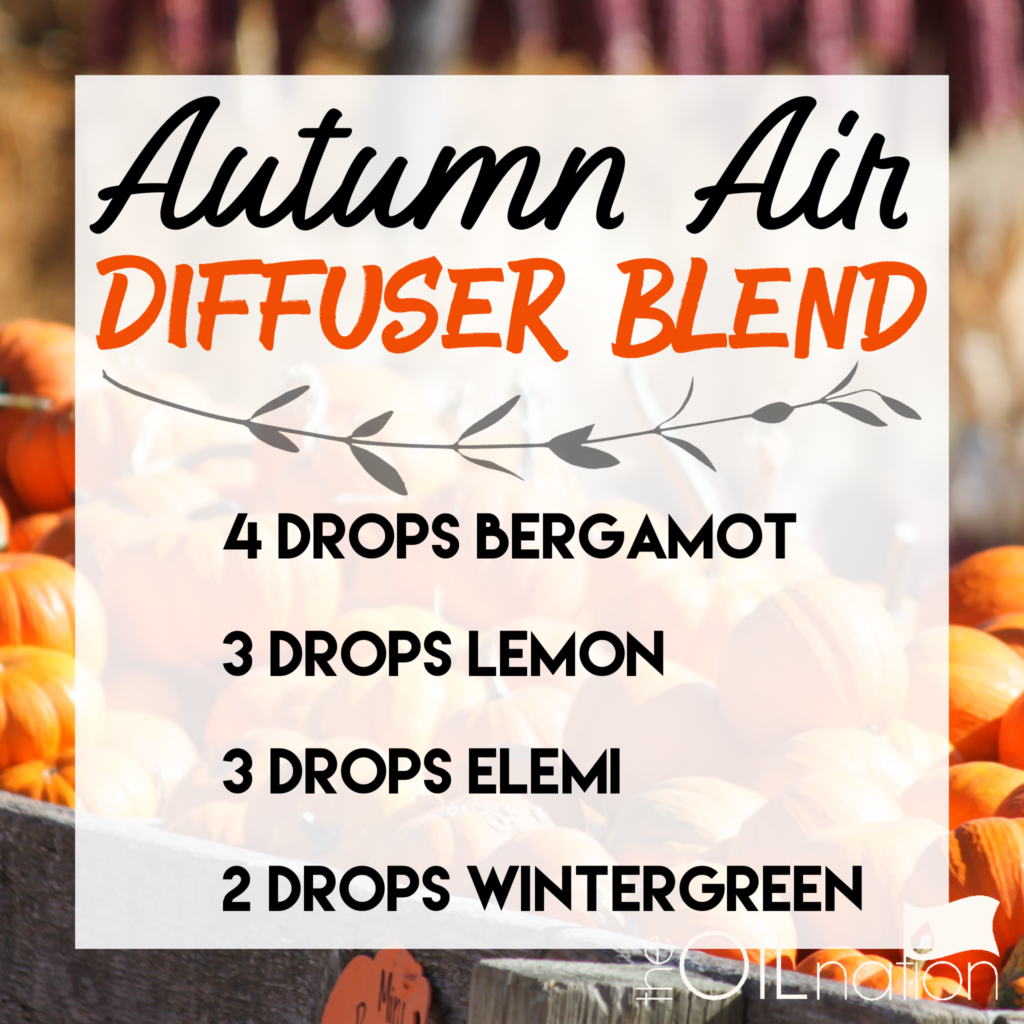 Autumn Air
4 drops Bergamot
3 drops Lemon
3 drops Elemi
2 drops Wintergreen
Falling Leaves
4 drops Northern Lights Black Spruce
3 drops Cedarwood
3 drops Orange
1 drop Cinnamon Bark
Fall Spice
4 drops Orange
3 drops Cinnamon Bark
2 drops Rosemary
1 drop Clove
These blends range from calming to uplifting to energizing, and the BEST part is that you can feel confident about what you're adding to the air in your home while enjoying all the coziness of those familiar autumn scents. So skip the candles this season, and instead, fill your home with these delightful diffuser blends for fall!