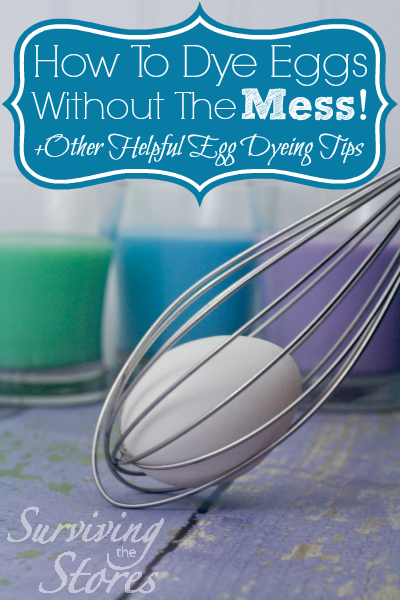 It's that time of year again!
I generally try to stay away from most intentional messes (right now we are in the stage of life where we have PLENTY of unintentional messes) but dyeing eggs is one that I can't (and don't want to) resist.
Dyeing eggs can get pretty messy, but we're trying something new this year to keep the mess to a minimum.
I've been looking for ways to make the process a little easier, especially for our 3 year old, and found this idea to use a whisk to dye the eggs.
You just open the whisk up a little to put the egg in and the whisk goes right back together once the egg is in there. Then you dip the whisk in the dye solution and leave it in there for the right amount of time.
My big kids can use the regular egg dye dipper, but this idea is perfect for my little ones!
If you don't want to use your nice kitchen whisks, then you can find them for $1 at your local dollar store.
---
Here are two more egg dyeing tips and tricks that you might find helpful this year:
1. Bake your eggs instead of boiling them!
Preheat your oven to 325 degrees. Place room-temperature uncooked eggs in a muffin tin to keep them from rolling around everywhere. Bake the eggs for 30 minutes. When the 30 minutes are up, put the eggs in a bowl of ICE water. That's it! PERFECTLY "boiled" eggs without any boiling water or cracking!



2. Dye eggs with ingredients you already have!
Whether you don't want to go out to buy dye, are concerned with the chemicals in food dye, or just want to show your kids how people have made food coloring for centuries, you can use ingredients that you likely already have to dye your eggs!
Here are a few ways to make egg dye colors with natural ingredients:
Green Dye: boiled spinach leaves
Purple Dye: purple grape juice (a small amount), hibiscus tea, red wine, boiled red onion skins
Blue Dye: boiled red cabbage leaves, purple grape juice (a larger amount than for the purple), canned blueberries
Yellow Dye: boiled lemon peels, boiled carrot tops, boiled ground cumin or tumeric, green tea
Pink Dye: beets, cranberry juice, red grape juice, boiled raspberries
Red Dye: canned cherries with juice, boiled red onion skins (LOTS)
Brown Dye: strong coffee or instant coffee, black tea
Like Surviving The Stores on Facebook & Pinterest for more great frugal tips!