Best Deal Keurig 2019 – Black Friday & Cyber Monday Deals!
Black Friday/Cyber Monday is here and with it are some super HOT price drops on Keurig coffee brewers!! If you're looking for the best deal on a Keurig Coffee Maker here are the best prices currently online from several different online retailers! I've included several different models of Keurig from microbrewers to the latest Keurig 2.0. Simply click the link below to be taken directly to the deals!
***Super HOT Cyber Monday price drop on the Keurig K-Cafe Latte & Cappuccino Coffee Maker for only $98.99 + FREE shipping!! (Ret. $179.99)
Be sure to share, share, share these amazing Keurig brewer savings with your friends and family!! 🙂
Note: Prices can change at ANY time, however, we update this post regularly to ensure prices are as close to the current price as possible!
Keurig K-Cafe Latte & Cappuccino Coffee Maker
Includes Dishwasher Safe Milk Frother, Coffee Shot Capability, Compatible with all K-Cup Pods
Note: Prices can change at any time
Amazon – $98.99 + free shipping *Super HOT Cyber Monday price drop*
Best Buy – $219.99 + free shipping
Home Depot – $199 + free shipping
Walmart – $244.68 + free shipping
**Note: We have one of these and it makes wonderful lattes and cappuccinos!**
:: Keurig K-Elite Single-Serve Brewer ::
Brews coffee, tea, hot cocoa, specialty, and iced coffee
Note: Prices can change at any time
Amazon – $119.99 after coupon + free shipping (Ret. $169.99) *Cyber Monday Price drop*
Home Depot – $169.99 + free shipping
Macy's – $169.99 + free shipping
Walmart – $129 + free shipping
:: Keurig K Mini Single-Serve K-cup Coffee Maker ::
6 to 12 oz K-cup Brew Size
Amazon – $49.99 + free shipping **Super Hot Black Friday Price Drop!**
Walmart – $100.83 + free shipping
:: Keurig K Mini Plus Single-Serve K-Cup Coffee Maker ::
6 to 12 oz. K-cup Brew Size, K-Cup Pod Storage, Travel Mug Friendly
Note: Prices can change at any time
Amazon – $74.99 after coupon + free shipping **Hot Black Friday price drop**
Best Buy – $99.99 + free shipping
Home Depot – $89.99 + free shipping
Walmart – $110.52 + free shipping
:: Keurig K55 Classic Coffee Maker ::
Brews 6 – 10 oz, large water reservoir, auto-off
Note: Prices can change at any time
Amazon – $59.99 + free shipping (Ret. $119.99) *Black Friday Price Drop*
JCPenney – $119.99 + free shipping
Macy's – Currently OOS
Walmart – $134.99 + free shipping
:: Keurig K-Select Single Serve Brewer ::
Strength control, hot water 0n-demand, 6-12 oz brew sizes, large reservoir
Note: Prices can change at any time
Amazon – $67.99 + free shipping (Ret. $149.99) **Black Friday price drop**
Home Depot – $79.99 + free shipping
Macy's – $79.99 + free shipping
Walmart – $67.99 + free shipping
:: Keurig K-Duo Plus Coffee Maker ::
Single Serve and 12-Cup Carafe Drip Coffee Brewer, compatible with K-Cup pods and ground coffee
Note: Prices can change at any time
Amazon – $219.99 + free shipping **Click on "Available From These Sellers" to see that price**
B,B,& Beyond – $229.99 + free shipping
Target – $199.99 + free shipping
Walmart – $258.75 + free shipping
:: Keurig K-Duo Coffee Maker ::
12-cup Carafe and Single-Serve Brewer, Compatible with K-Cup Pods and Ground Coffee
Note: Prices can change at any time
Amazon – $129.99 + free shipping
Best Buy – $129.99 + free shipping
Kohl's – out of stock
Walmart – $79 + free shipping
Below are discontinued Keurig models that are still available in used and sometimes new condition: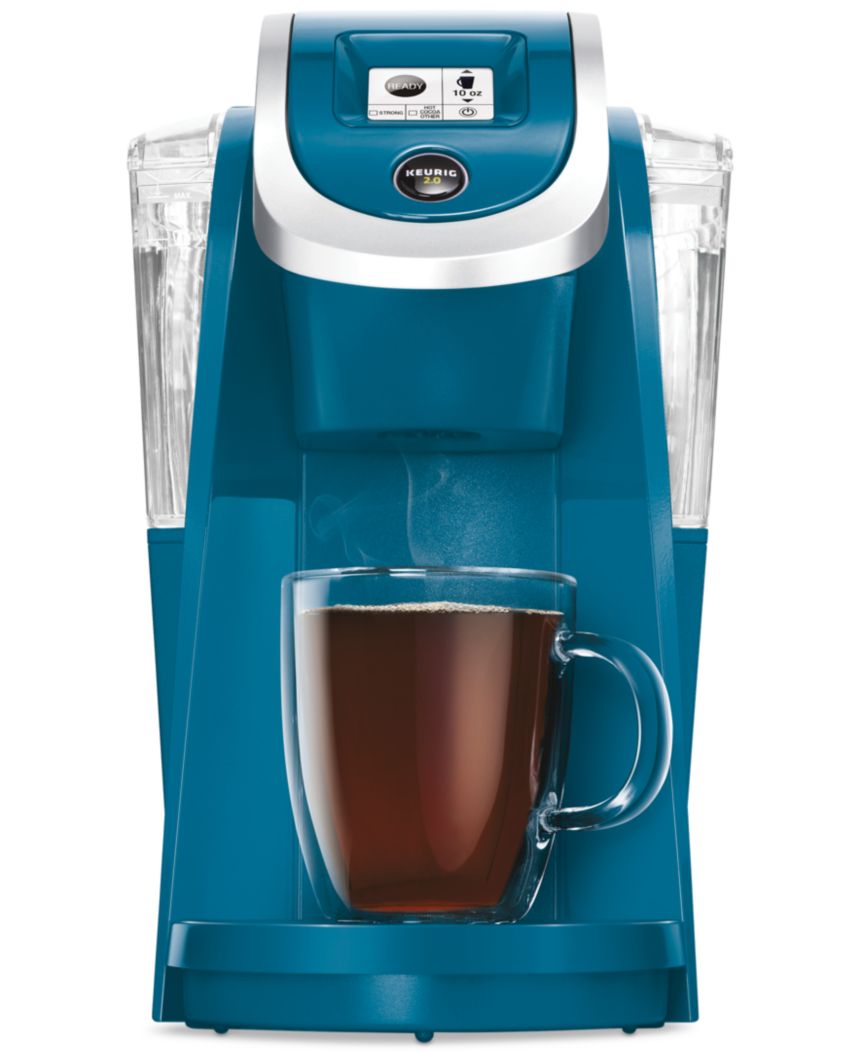 :: Keurig 2.0 K250 Compact Brewer ::
Note: Prices can change at any time
Amazon – $50 + 11.49 shipping *Used price – new price is $229.99 + $11.24 shipping*
:: Keurig 2.0 K575 Elite Brewing System ::
Note: Prices can change at any time
Amazon – $149.99 + free shipping (Ret. $159.99)
:: Keurig K145 OfficePRO Brewing System ::
Note: Prices can change at any time
Amazon Price – $154.78 + $27.18 shipping

:: Keurig 2.0 K475 Elite Brewing System ::
Note: Prices can change at any time
Amazon – $202 + free shipping