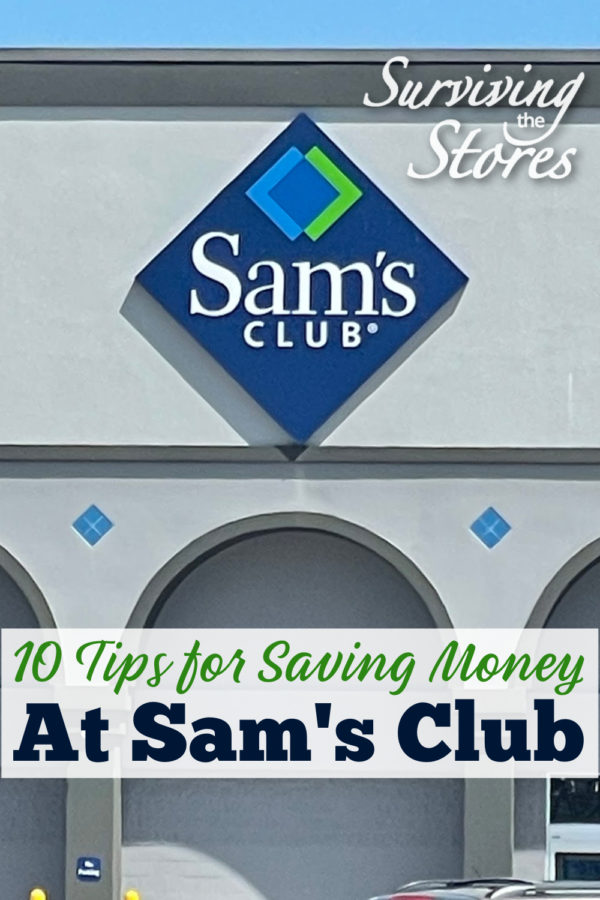 Warehouse stores are fabulous when you want to buy in bulk and save money! We stock up on the essentials whenever we can, and of course, we're always on the lookout for the best deals we can find. Here are our top 10 tips and tricks to help you save even more when shopping at Sam's Club!
1. Shop online without a membership
Did you know you can buy many of the items online at Sam's Club without a membership?
You will be charged a slightly higher price, but this is an easy way to save money if you don't plan to shop at Sam's Club very often. Why pay for a $45 membership you hardly ever use?
2. Instant savings
Many times each year, Sam's Club will mail out an Instant Savings Book with coupon-like deals on many grocery and other household items you buy regularly.
It's worth stocking up on items with Instant Savings, as Instant Savings are not always available. If you didn't get your Instant Savings Coupon book mailed to you, you can also find a complete list available on the Sam's Club website. Always know what's on sale before you shop, so you can get the best deals in-store!
3. Never pay for shipping with free curbside pickup
Many of the products I like to buy from Sam's Club are only available online. I have also found a lot of specialty items I want that are only available online. To avoid paying for shipping, I simply have my order shipped to my local Sam's Club, and pick it up for Free!
If you don't want to go inside your local Sam's Club, you can also take advantage of free curbside pickup. It's a good idea to call your local store to verify they offer this service before you place an order, as not all locations do.
4. Fill up the car on your next trip
Knock gas and groceries off your list, and save money while you do it. Sam's savings on gas is usually 10-15 cents a gallon!
5. Two words: free samples!
Sam's Club has an automated freebie kiosk that serves up free samples just like a vending machine! Simply scan your membership card, wait for a brief commercial to play on the screen, then grab your free sample out of the kiosk.
6. For every $500 you spend, you can get $10 back
If you consistently spend a large amount every month at Sam's Club, then the upgraded Sam's Club Plus Membership may save you money. You'll get $10 back for every $500 you spend at the Club. You can also get early 7 AM access to some stores.
Bonus: You'll get free shipping on everything, with no minimum purchase requirements!
7. Check the back of the store for clearance items
Clearance shopping is a must for me. Sometimes I don't find anything useful, but more often than not, I walk away with a great deal. To find clearance items at Sam's Club online, simply go to the Sam's Club site and search "almost gone" and also "last chance buys."
Finding clearance deals in your store can be a little trickier. Look for marked down or end of season items tucked into spots that are out of the way, like in the back of the store, or even in low visibility aisle end caps.
8. Save with Sam's Club open-box deals
Did you know that Sam's Club offers discounts on open-box returned items? If you're looking for a deal on a new TV or electronics, be sure to see what is available at your local store.
9. Save big with their "Shocking Values"
Shocking Values are Sam's Clubs take on daily deals. If you want to keep watch for a specific item, you can sign up to receive email notifications for the daily Shocking Values. Or just check out the site to see what's available.
10. You can use Sam's Club pharmacy without a membership
Sam's Club and Costco offer some of the lowest prescription drug prices available. Even if you don't have a Sam's Club membership, be sure to take advantage of the low prices at the Sam's Club pharmacy. You can get flu shots and fill prescriptions, all without a membership!
When filling any prescription, I recommend always calling at least 2-3 stores to make sure you are getting the best price available. I also ask to get a generic brand drug if it is available to save even more. It always pays to shop around when you're filling a prescription!