What is Aldi?
The Aldi grocery store that we know in the states is a combination of two grocery stores started by a family in Germany. There is Aldi Nord and Aldi Sud.
The story is, the family-owned store was split because the two brothers disagreed on the sale of cigarettes. The Aldi that we have in the US is operated under Aldi Sud, and Trader Joe's under Aldi Nord. Nord and Sud are two different companies and have been since 1966. So, if you've heard it said that Aldi and TJ's are owned by the same company, that is not entirely true.
Find an Aldi near you!
Although they are much smaller than traditional grocery stores and there are things that I can not find there, the no-frills layout really allows savings to pass to you! By no frills, I mean, cases are off-loaded, tops of boxes are torn open, and stacked for you to select from. No stocking shelves here. You bag your own groceries. And you really do have to pay a quarter for that cart, but no parking lot attendants means you save money! Aldis have been popping up everywhere in the last decade, and we have over 100 in my state! Click here to find an Aldi store near you!
A note about coupons:
The majority of Aldi items are their brands which is one of the reasons prices can stay low. When they do have name brands, they tend to keep those prices low as well. Although I do find when they have name brand products, they aren't much different than regular prices from anyplace else.
Because of this, they do not accept coupons. If you see one of those coupons floating around social media for $10 off, I can almost guarantee it is fake. Your best bet is to bring it with you and ask.
Amazing prices on organic items
Coffee. 12 oz, o

rganic, fair trade, whole bean, medium roast coffee will run you $8.54. Aldi's Simply Nature brand is also fair trade and organic but costs $4.99 for 12 ounces.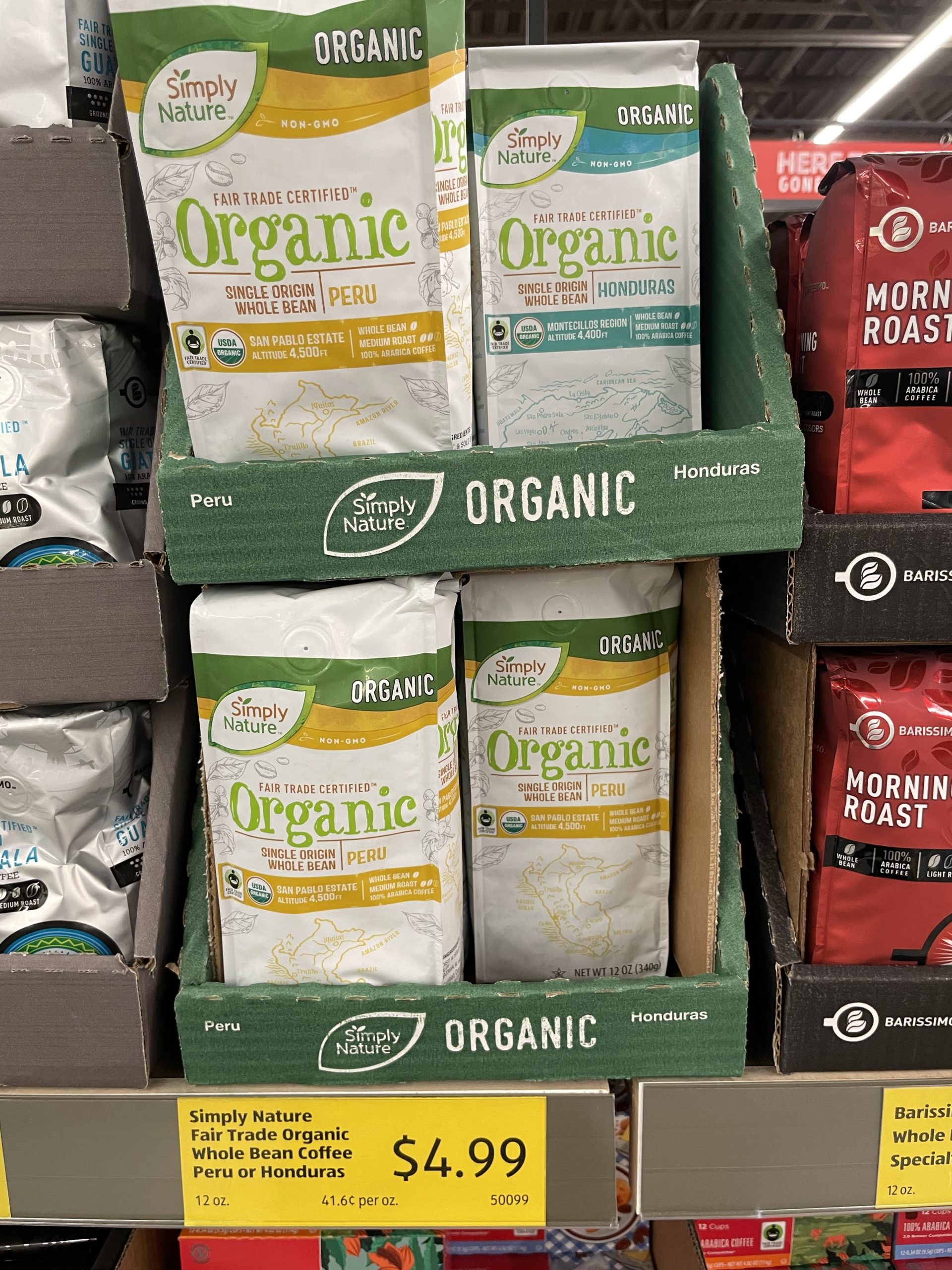 Oatmeal, oil, (coconut, avocado, olive) salad dressings, sugars, ketchup, rice, the list really goes on. Aldi has organic options for many of your pantry staples. Selection is limited, but the savings are significant.
Aldi also has deals on organic refrigerated items. Their organic milk is the cheapest I've found! They've also got organic selections of yogurt, cheese, eggs, and frozen fruit for smoothies!
The meat selection is limited but they do have grass-fed ground beef, organic chicken, and nitrite-free bacon. Go on Wednesdays for the best prices of the week.
Aldi wins hands down for their gluten-free options. Again, selection is limited but items like GF pancake mix and GF whole grain bread are cheaper here than at Walmart or Trader Joe's!
Aldi also has great prices on paper products and trash bags! An 18 pack of Angel Soft is $14.97 at Walmart!
10 Tips for Shopping At Aldi
1. Before you leave the car, make sure you have your bags and a quarter.
The quarter is to rent the cart. You get it back at the end of your experience after you return the cart to the corral. It's not a massive deal unless you forget that quarter. The bags are for your groceries. They don't give bags away like Walmart. They'll sell them to you but it's best to just bring your own. You could use the empty boxes found throughout the store for free.
2. The store is not set up like a typical grocery store.
The front of the boxes that the goods are shipped in is cut off to expose the products. They are not lined up and stacked looking pretty. They're still in their boxes.
3. Most stores are much smaller than the average grocery store.
This means that when it's a busy time of day, it will get real crowded, real fast. Shop wisely.
4. Check out the Aldi finds section on Wednesdays and Sundays for even deeper discounts
ALDI's Finds section has some crazy low-priced items that sell fast — anywhere from bath mats to kitchen goods to clothing. The best time to shop this section is either Wednesday or Sunday morning, depending on your store — that's right after they restock the section. But be quick about it; these super-marked-down items sell out fast!

5. There are very few name brand items.
Most are their brand which will give you the savings that you are there for in the first place. I suggest buying and experimenting with some of the brands and choices. Some may be very different (better even) than what your taste buds are used to.
6. When they DO have name brands, they are usually cheaper than at other stores.
Aldi switches up their inventory a-lot and when they do, name brands can come at a bargain. A 14.5 oz size box of Cheerios is $3.49 at Aldi, and $3.99 on Amazon.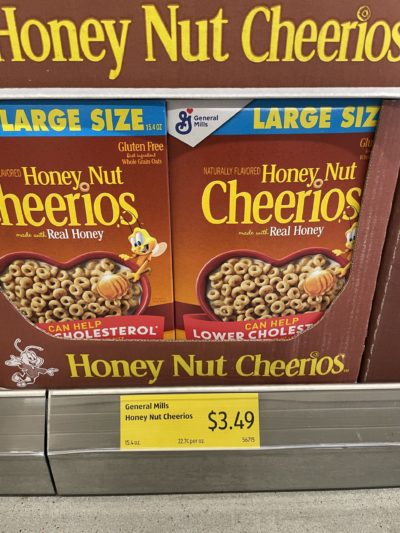 7. You bag your own groceries.
Cashing out is a little like an assembly line. All groceries are taken out of your cart and put on the belt by you. They are scanned and placed into an empty cart by the cashier. Then you pay and take your groceries to the counter to bag yourself. It moves fast so be prepared. I actually like bagging my own groceries because it's a harmless way to scratch my occasional control freak tendencies. AND, my bananas are never placed on top of my bread!
8. Aldi is not the best place to get personal care items.
Aldi has great prices on most things, but when it comes to toiletries, you can get better deals elsewhere.
9. You can get fun, seasonal products for up to 30% less than places like Target
Pumpkin-shaped pasta and Christmas cookie cutters are priced lower at Aldi than anywhere else! Definitely check out the seasonal section on your next trip!
10. It's cheaper to shop in-store
Your first grocery delivery or pickup through Instacart is free, although ALDI offers $10 off for new Instacart customers spending more than $35. After that, it'll cost you at least $5.99 per delivery or $95 and up for an annual subscription. Not to mention prices for shopping Aldi via Instacart are about 17% more than in-store.
Bonus tip: Use rebate apps to save even more!
Apps like Ibotta, Fetch Rewards, and Checkout 51 are some of the best ways to save since Aldi doesn't do coupons. Just scan your receipt and get rebates on eligible products!