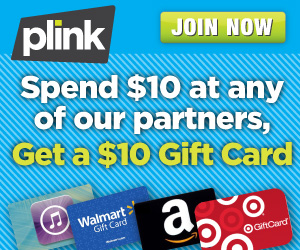 If you missed the FREE $20 Gift Card offer last time here's another great offer you can take advantage of! Right now when you sign up and register for Plink, (new members only) which is a free service that you can use to earn rewards when you shop and eat out, you can get a FREE $10 Gift Card to Amazon, Walmart, Target, and more when you spend $10 at any of Plink's partners! (there are a bunch to choose from)
Or, if you do not want to spend $10, you can get a FREE $5 Gift Card just for signing up! (I did this offer the first time I posted about Plink and it worked!)
Here's how to get your $10 gift card:
1. Head over Plink HERE to get started.

2. Link the debit or credit card that you would like to use with your account.

3. Spend $10 at One of Plink's partners by April 28th with the card you registered. 1000 points will be added to your account after your purchase. (or, to get a Free $5 gift gift card without spending $10 follow these instructions instead)

4. Log back in to your Plink account on May 2nd and you will be able to request the $10 gift card of your choice.
More Freebies & Samples!