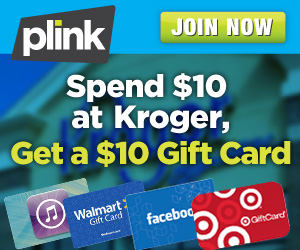 FIVE more days (through 8/4) to get a FREE $10 Gift Card to Amazon, Walmart, Target, iTunes, and more with a $10 purchase at Kroger! You must sign up and register for Plink, (new members only) which is a free service that you can use to earn rewards when you shop and eat out, in order to receive the offer.
This should be pretty easy for all of you Kroger couponers out there, 🙂 so be sure to sign up if you have not already to get this freebie!
I did the free $5 offer when it first came out and it worked great for me, so I definitely recommend signing up if you have not yet.
Here's how to get your $10 Gift Card:
1. Head over to Plink HERE to get started.

2. Link the debit or credit card that you would like to use with your account (see below for privacy and security info).

3. Spend $10 at Kroger by August 4th at 11:59pm EST with the card you registered.

4. 1000 points will be added to your account within 7 business days after your purchase.

5. Log back in to your account after seven days to pick the $10 gift card of your choice!
And as a side note Plink has been awarded the TRUSTe Seal "signifying that this privacy policy and practices have been reviewed by TRUSTe for compliance with TRUSTe's program requirements including transparency, accountability and choice regarding the collection and use of your personal information," so they are a trusted company with handling your private information. As I said before, I signed up with them a few months ago when this first came out and have not had any issues. Check out their privacy page for more info on security.